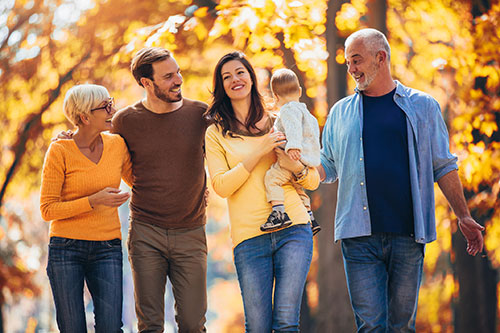 What will happen to your Metro Chicago property and assets when you are no longer here?
There are two possible scenarios. In scenario one – where you don't put together an estate plan – your assets will be divided up by a court, or given to your immediate next of kin, and it can be a lengthy and expensive process to get sorted out. In scenario two – where estate planning is the answer – you can properly plan to determine the best place and/or person for your assets before you're no longer able to decide.
In scenario one, without an estate plan, your assets are unprotected and your loved ones are put in a difficult situation. In scenario two, with an estate plan, your assets are protected – even optimized – and your loved ones will rest easy knowing these difficult decisions were made by you and your wishes will be met.
At Robins & Associates, we want to give you peace of mind with a clear estate planning roadmap prepared for you and your loved ones. We advise you with a customized estate plan to meets your family's specific needs, combining things like wills, trusts, powers of attorney, and other tools, so you have control over how things are handled for the rest of your life and after you pass.
A carefully designed estate plan benefits you and your family in many ways. The creation of a proper estate plan protects you and your loved ones from the need of guardianships, reduces estate taxes, and protects your assets from long-term care expenses.
Each estate plan is unique. In some cases, a will or trust may need to be established in order to best ensure your assets are protected. An experienced estate planning attorney, like Michael J. Robins, will help you decide whether you need a will or trust for your specific assets.
Our team may include some of the following estate planning tools depending on your goals and the size of your estate:
Will
Pour Over Will
Revocable Trust
Irrevocable Trust
Special Needs Trust
Power of Attorney for Finance
Advance Health Care Directive
HIPAA Release
Beneficiary Designations
Asset Protection Planning
Charitable and Gift Planning
International Estate Planning
Asset Protection in Metro Chicago
Asset protection is key to safeguarding your hard-earned personal possessions, property and wealth from lawsuits and creditors. If you are operating in a high-risk profession or own your own business your personal assets are in special need of protection. In today's contentious culture, smart asset-ownership structures can protect against subsequent creditors actions or future lawsuits.
Save your assets from future lawsuits and creditors by working with Robins & Associates to plan the best protective measures for your specific circumstance. These measures may include insurance, asset segregation, LLC's, asset protection trusts, prenuptial agreements, and more.